Florida Realtors 2020 Year-End Statistics
Fort Lauderdale Homes Appreciate 19%
Home values in Fort Lauderdale rose 19% in 2020.
To be precise: the Median Price of a Single Family Home in Fort Lauderdale, Florida increased to $500,000, which represents a rise of 19.0% from the previous year, according to statistics compiled and released by the Florida Association of Realtors.
What makes statistics reported by the Florida Realtors particularly valid versus other market reports: they are compiled from numbers generated through the MLS of local realtor associations across the state.
Other municipalities in Broward also reported significant increases in the Median Price of Single Family Homes. Not surprisingly, most of these were more upscale cities along the Atlantic coast: Deerfield Beach up 19.7% on 513 Closed Sales; Pompano Beach up 17.0% on 733 Closed Sales; Lauderdale-by-the Sea up 19.2% after 65 Closed Sales. Even Dania Beach showed a rise in the Median Home Price of 19.7% on 187 Closed Sales.
Now it doesn't take a Rocket Scientist to figure out something's going on when Single Family Homes in Dania Beach increase almost 20% in a single annum.
Aside from the rise in values, these stats seem to indicate home buyers paying a premium for proximity to the beach. Upscale communities in the western reaches of Broward County such as Weston and Parkland reported moderate gains of only 4% and 6.6% respectively (based on 826 and 695 Closed Sales. Other inland bedrooms communities report similar single digit increases: Coral Springs 8.5% on a significant sampling of 1,286 Closed Sales; Pembroke Pines 7.3% on 1,313 Closed Sales.
By the way, in case you're wondering - the 19% increase in Fort Lauderdale homes was based on a rather sizable sampling of 1,793 Closed Sales.
We also see a couple of interesting anomalies in these numbers.
For instance, the Median Price for a Single Family Home in the "city" of Lazy Lake rose an eye-popping 153%. For those who are not familiar with Lazy Lake it is a village of 13 Single Family Homes built around a little lake off North Andrews Avenue. The smallest incorporated city in Broward County, it has one street and a population of 20-some people. This meteoric rise in home values is based upon ONE Closed Sale of $1,080,000.
To the opposite extreme we find Hillsboro Beach, undoubtedly the wealthiest municipality in the County, a row of impressive beachfront mansions stretching north from the Hillsboro Inlet. Based on 7 Closed Sales in 2020 the Median Price increased 25% to $12,500,000. It is all interesting to note these numbers represent a cash purchase ratio of 85%. In other words - 6 out of the 7 Buyers paid cash. Want to have some more fun, figure out the debt service the one Buyer who financed might be paying. On a $10 Million mortgage, even at 3.0%, the interest could total $25,000 a month.
Another anomaly is Southwest Ranches, a community comprised of predominantly multi-acre parcels where residents keeps horses and animals. The only western municipality to show a significant increase, Median Price rose 24.1% to $862,500 based upon 120 Closed Sales.
Where Do I Invest?
Some of the more mercenary of our readers (a.k.a. real estate investors) might be wondering, as you go through these numbers - where's the best place to invest? To me these stats indicate transitory neighborhoods just inland from the coast might offer the best bang for your buck. I never though I'd say these words, but take a look at Oakland Park. From its eastern-most border along Federal Highway in North Fort Lauderdale, stretching west through neighborhoods which are up on their way up, Median Sale Price in Oakland Park increased 13.3% to a relatively reasonable $340,000 on a sampling of 463 Closed Sales.
Condominiums & Townhomes
In Condominiums and Townhomes the statistics tell a different story. This market had been languishing for some years before the influx of Buyers from other states: tax refugees from California, people from the Northeast who came to realize the importance of outdoor living through the Covid-19 pandemic.
Median Price in Fort Lauderdale increased to $335,000, a healthy rise of 11.7% on a substantial sampling of 1,933 Closed Sales. The coastal town of Lauderdale-by-the-Sea also reported a significant rise of 15% to a Median Price of $390,000 on 214 Closed Sales.
Still, in Condos and Townhomes, many municipalities in the western reaches of Broward County still reported healthy increases. Weston: Median Price $268,500, up 9.6% on 346 Closed Sales.
Hollywood: up 13.9% to $205,000 on 1,061 Closed Sales.
Coral Springs: Median Price $159,000, a rise of 9.7% on 586 Closed Sales.
Davie: up 10.3% to $215,00 after 490 Closed Sales.
The most surprising results in the Condominium and Townhome market may be some of the more economical (shall we say) cities through the middle of Broward County.
Lauderdale Lakes up 16.8% to $75,950 on 253 Closed Sales.
North Lauderdale up 19.7% to $191,000 on 207 Closed Sales.
Lauderhill up 16.9% to $95,000, 623 Closed Sales.
Sunrise up 14.0% to $138,000 on 911 Closed Sales.
Tamarac up 13.1% to $155,000, 929 Closed Sales.v
See 2020 Year-End Real Estate Reports
from Florida Association of Realtors
Drill Down Deeper
2020 Median Price Increase by Zip Code
In-Depth Analysis & Projections
Home Price Appreciation in Fort Lauderdale Inevitable
As a professional full-time realtor I pay a lot of attention to housing statistics. Not just some housing statistics. ALL the statistics. Sherlock Holmes used to say: "Always fit the theory to the facts, not the facts to the theory." CoreLogic, RealtyTrac, S&P / Case Shiller, the National Association of Realtors and the Florida Association of Realtors all release real estate market reports on a monthly basis. Yet, I read articles where people seize upon selected data supporting their position, neglect to consider all the facts.
I don't know if there is any place this has cost people more money than around Fort Lauderdale and South Florida. We have a unique market. It is highly shopped, extremely active, dynamic.
Over the past few months and years some very interesting statistics have emerged. Taken individually these numbers are all compelling on their own, but when you add them all together I think they paint a pretty clear picture of what's in store for the Fort Lauderdale real sstate market moving forward.
1. Not Making Any More
It's usually recited about beach front property, but there's an old Real Estate Adage: "They're not making any more of it."
That has never been truer than it is in Fort Lauderdale, the primo location in the state of Florida. There is only so much land. Broward County is not large to begin with, approximately 27 miles north and south, perhaps 45 miles east to west. However, around 60% of this geographic area are wetlands which cannot be developed without cutting off their own water supply. They can no longer build any anything else beyond the Sawgrass Expressway and US-27, which are somewhere between 10 and 15 miles from the coast. So the entire county is 1,320 square miles with 115 square miles of water. Boil it all down this leaves only 471 square miles of developable dry land.

At this point this developable land is now 99.99% developed. There are no more swaths of scrub forest east of US-27 and the Sawgrass which can be bull-dozed into housing projects. Drive the Sawgrass Expressway through northern Broward you see housing developments and commercial properties along the east side of the road, and along the west side of the highway it is literally The Everglades – whip grass, wading birds and alligators.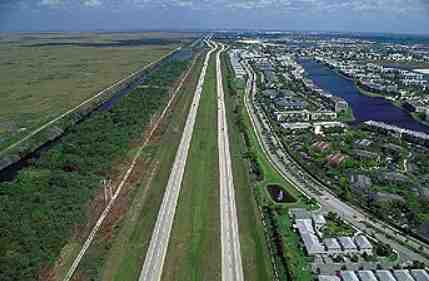 2. Come On Down
Recently Florida surpassed New York as the third most populous state in the nation. Well, you never have to shovel sunshine off your driveway. Admittedly the population is increasing rapidly through Central Florida, but Broward County is arguably the most desirable part of the state. In 1960 they took the Census, there were 60,000 residents. Ten years later in 1970 there were 600,000. Currently the population is around 1.75 million and projected to climb to almost 2.3 million by the year 2020.
That's 550,000 more people – or an additional 31.4% – moving into the same 471 square miles of dry land.
That's an additional 1,167 people per square mile, with the current density being 3,715 residents per square mile.
3. Location, Location, Location
In addition to geographic limitations and population growth projections we also took note of some intruiging statistics compiled by the Florida Association of Realtors concerning the continued rise in the median price for both single family homes and condominiums.
Below are links to Year End Summary Reports for sales of single family homes and condos across the state. Click on the images if you wish to see these reports, but I can save you the trouble. They show the median price increased 15.9% year over year in single family, and 20.1% for townhomes and condos.
Closer analysis of these numbers confirms an assertion I have been telling my customers for the last couple years – that better properties will outperform the statewide average.
This is illustrated in the report below: Florida Residential Market Sales Activity, Statewide by Metropolitan Statistical Area.
In the reporting area of Miami, Fort Lauderdale and Pompano, Median Price for Single Family Homes rose 20.3% year to year, 26.2% in condos and townhomes, versus the statewide average above, 15.9% in single family, 20.1% for townhomes and condos).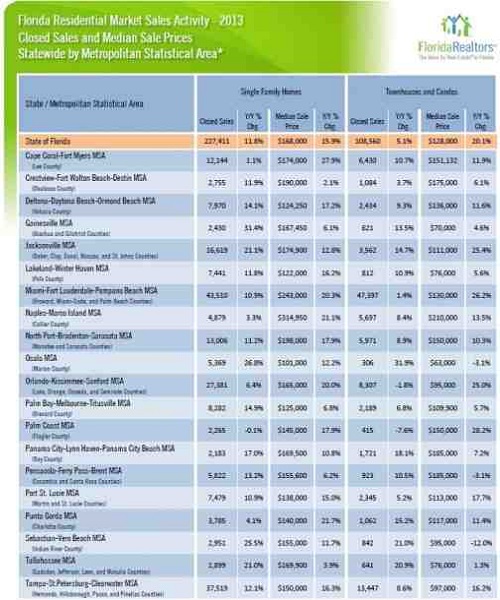 These numbers are still a bit skewed, however, for companies that compile these statistics use a very large reporting area for South Florida, typically encompassing all of Miami-Dade, Broward and Palm Beach Counties. Were you to distill these stats down to Broward County, the better location within that reporting area, the numbers would undoubtedly increase. And if we could isolate the east side of Fort Lauderdale, they'd go up even higher.
4. Connect The Dots
Talk about a No Brainer, this would seem to be a simple matter of connecting the dots, what this should mean for property values in Fort Lauderdale and throughout Broward County. 1) We don't have much land. 2) Population is growing. 3) Demand is increasing. And 4) Prime property will outperform the overall average.
Add these factors up significant appreciation in property values seems relatively inevitable. In addition, whatever rate of appreciation you might wish to forecast for the overall county-wide average, it shall be markedly greater in prime real estate – waterfont homes, oceanfront condos, houses and townhomes in nice nieghborhoods along the coast.
In My Professional Opinion
We are looking at a pretty good stretch into the foreseeable future, barring Acts of God, asteroid impacts and/or the total collapse of Western Civilization. Bouncing off the bottom real estate values jumped across South Florida, increasing almost 30% through 2012-13. People were talking about another bubble, but the market consolidated through 2015, then got back on track in 2014. Meantime, depending upon which market reports you are quoting, property values have increased for the last 40-50 consecutive months. The most current reports project 2016 shall mark a return to normalcy nationwide, but a "normal" market in South Florida real estate typically means annual appreciation of 8-10%.
If 8-10% annual appreciation in an active market which will allow you to sell your property and take your profit isn't good enough for you – good luck and God bless.
In 2010 I told my customers to start buying. The housing market in Fort Lauderdale had stabilized, had started inching upward. I told customers as soon as real estate investors noticed prices going up in South Florida we'd have a mini land rush. Well, I was right. Customers who listened have already seen great appreciation. Others started citing stuff they were reading on the Internet about the "Shadow Inventory" – this mythical tidal wave of impending foreclosures that was going to swamp our market like a tsunami. Now those people are sitting in a little rubber raft on the beach in their rain slickers and their floppy hats, waiting for the big wave. Meanwhile, people who listenend are lounging on the balcony of their luxury oceanfront residence sipping mojitos and laughing at those crackpots in the rubber rafts, wondering what we pay the Police for anyway.
Explosive Long Term Growth
Much has been made of the volatility of the South Florida Real Estate market, especially in the past few years, but I think it's important to put this all in proper historical context.
The best indicator of this may be the Standard & Poor's / Case-Shiller Home Price Index. This highly regarded index tracks the values of the same houses over time. Some analysts argue that's a better measure than the median price.
Below is the most recent chart tracking home values in the reporting area of Miami-Dade, Broward and Palm Beach Counties versus the (green line) U.S. average.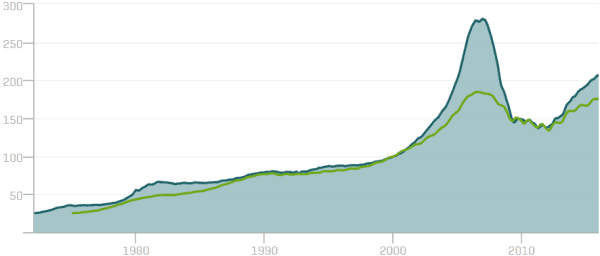 I don't think I've ever seen the strength of the South Florida Real Estate market more graphically illustrated.
First thing that hits you, of course, is that big spike, how crazy the market must've been from 2003 to 2005 – that sharp up-tick and that steep decline. It happened on a national level as well, just not as dramatically. Even so, remember that spike represents a bunch of money that was made. Many people lost it all, and then some, pouring it back into the market, but that's on them. It does not change the fact that big profits were made.
Perhaps most fascinating, however, is the long term overall trend. Look at this second chart below where I have added the blue trend line, following the overall upward trend of home prices in South Florida dating back to the mid-70s. Home prices went crazy from 2003 to 2005, shot up and then plummeted, but in the end price levels still wound up a little higher than they probably whould've been given their historical upward climb.
Particularly impressive is what the South Florida market has done since 2011 or so. Not only has it risen faster than the overall trend, but if you consult the first chart above you will see our property values have risen much faster than the national average.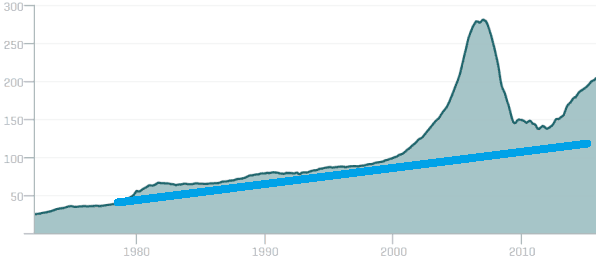 Appreciation All But Inevitable
As previously stated, taking all these factors into consideration I feel that buying property in South Florida, especially Fort Lauderdale, is pretty much a No-Brainer.
South Florida Real Estate has always followed a boom and bust cycle. Fortunes have been made here. As long as we've got the Atlantic Ocean and the Gulfstream, palm trees gently swaying in tropical Trade Winds off a turquoise ocean – and heaters we only use two weeks of the year – significant appreciation of home values is relatively inevitable.
Some years ago I got into my car, found the carpet and floor mats soaked. Took it into the shop. The mechanic told me the water had sat in my car heater so long without circulating it had rusted right through the pipes.
Where else in the country is that going to happen?
So buy now or forever hold your "piece" – of Cleveland, Newark or Detroit.