Florida Realtors 2020 Year-End Statistics
Fort Lauderdale Homes Appreciate 19%
Home values in Fort Lauderdale rose 19% in 2020.
To be precise: the Median Price of a Single Family Home in Fort Lauderdale, Florida increased to $500,000, which represents a rise of 19.0% from the previous year, according to statistics compiled and released by the Florida Association of Realtors.
What makes statistics reported by the Florida Realtors particularly valid versus other market reports: they are compiled from numbers generated through the MLS of local realtor associations across the state.
Other municipalities in Broward also reported significant increases in the Median Price of Single Family Homes. Not surprisingly, most of these were more upscale cities along the Atlantic coast: Deerfield Beach up 19.7% on 513 Closed Sales; Pompano Beach up 17.0% on 733 Closed Sales; Lauderdale-by-the Sea up 19.2% after 65 Closed Sales. Even Dania Beach showed a rise in the Median Home Price of 19.7% on 187 Closed Sales.
Now it doesn't take a Rocket Scientist to figure out something's going on when Single Family Homes in Dania Beach increase almost 20% in a single annum.
Aside from the rise in values, these stats seem to indicate home buyers paying a premium for proximity to the beach. Upscale communities in the western reaches of Broward County such as Weston and Parkland reported moderate gains of only 4% and 6.6% respectively (based on 826 and 695 Closed Sales. Other inland bedrooms communities report similar single digit increases: Coral Springs 8.5% on a significant sampling of 1,286 Closed Sales; Pembroke Pines 7.3% on 1,313 Closed Sales.
By the way, in case you're wondering - the 19% increase in Fort Lauderdale homes was based on a rather sizable sampling of 1,793 Closed Sales.
We also see a couple of interesting anomalies in these numbers.
For instance, the Median Price for a Single Family Home in the "city" of Lazy Lake rose an eye-popping 153%. For those who are not familiar with Lazy Lake it is a village of 13 Single Family Homes built around a little lake off North Andrews Avenue. The smallest incorporated city in Broward County, it has one street and a population of 20-some people. This meteoric rise in home values is based upon ONE Closed Sale of $1,080,000.
To the opposite extreme we find Hillsboro Beach, undoubtedly the wealthiest municipality in the County, a row of impressive beachfront mansions stretching north from the Hillsboro Inlet. Based on 7 Closed Sales in 2020 the Median Price increased 25% to $12,500,000. It is all interesting to note these numbers represent a cash purchase ratio of 85%. In other words - 6 out of the 7 Buyers paid cash. Want to have some more fun, figure out the debt service the one Buyer who financed might be paying. On a $10 Million mortgage, even at 3.0%, the interest could total $25,000 a month.
Another anomaly is Southwest Ranches, a community comprised of predominantly multi-acre parcels where residents keeps horses and animals. The only western municipality to show a significant increase, Median Price rose 24.1% to $862,500 based upon 120 Closed Sales.
Where Do I Invest?
Some of the more mercenary of our readers (a.k.a. real estate investors) might be wondering, as you go through these numbers - where's the best place to invest? To me these stats indicate transitory neighborhoods just inland from the coast might offer the best bang for your buck. I never though I'd say these words, but take a look at Oakland Park. From its eastern-most border along Federal Highway in North Fort Lauderdale, stretching west through neighborhoods which are up on their way up, Median Sale Price in Oakland Park increased 13.3% to a relatively reasonable $340,000 on a sampling of 463 Closed Sales.
Condominiums & Townhomes
In Condominiums and Townhomes the statistics tell a different story. This market had been languishing for some years before the influx of Buyers from other states: tax refugees from California, people from the Northeast who came to realize the importance of outdoor living through the Covid-19 pandemic.
Median Price in Fort Lauderdale increased to $335,000, a healthy rise of 11.7% on a substantial sampling of 1,933 Closed Sales. The coastal town of Lauderdale-by-the-Sea also reported a significant rise of 15% to a Median Price of $390,000 on 214 Closed Sales.
Still, in Condos and Townhomes, many municipalities in the western reaches of Broward County still reported healthy increases. Weston: Median Price $268,500, up 9.6% on 346 Closed Sales.
Hollywood: up 13.9% to $205,000 on 1,061 Closed Sales.
Coral Springs: Median Price $159,000, a rise of 9.7% on 586 Closed Sales.
Davie: up 10.3% to $215,00 after 490 Closed Sales.
The most surprising results in the Condominium and Townhome market may be some of the more economical (shall we say) cities through the middle of Broward County.
Lauderdale Lakes up 16.8% to $75,950 on 253 Closed Sales.
North Lauderdale up 19.7% to $191,000 on 207 Closed Sales.
Lauderhill up 16.9% to $95,000, 623 Closed Sales.
Sunrise up 14.0% to $138,000 on 911 Closed Sales.
Tamarac up 13.1% to $155,000, 929 Closed Sales.v
See 2020 Year-End Real Estate Reports
City by City in Broward County
Click on buttons to call up a pdf of selected reports
Drill Down Deeper
2020 Median Price Increase by Zip Code
Free Download
Broward County Zip Code Map
Year End Real Estate Market Reports
Click on buttons to download a pdf of statistical reports.
2020 Year-End Statistics from Florida Realtors
Home Price Appreciation The Best in Fort Lauderdale
I hate being right all the time. For years I've been telling people Fort Lauderdale is the best location in Florida, especially when it comes to Real Estate, particularly in Home Value Appreciation.
Statistics released by the Florida Realtors for year-end 2020 prove this in dramatic fashion.
In 2020 the Median Price of a Single Family Home in Ft. Lauderdale, Florida increased 19.0% to $500,000 based on 1,793 Closed Sales. This is essentially double the appreciation in home values reported for the state. Median Price for a Single Family in Florida rose 9.6% in 2020. Moreover, the South Florida reporting area, comprised of Miami-Dade, Broward and Palm Beach County, showed an increase in Median Price of 10.6%.
Forget Low-Balling. According to these stats from the Florida Realtors, compiled from the MLS of local real estate associations across the state, Sellers received 97.7% of their asking price in 2020, versus 96.% in the preceding annum, an increase of 1.2%. That's statewide. The numbers are a little less for the reporting area of South Florida: 96.4% Median Percentage of Original List Price Received versus 95.3% in 2019, a 1.1% Rise. In Broward County Seller's received 96.9% of their listed price, up 1.1% from the previous year.
Condominiums & Townhomes
The market for Condominiums and Townhomes in Fort Lauderdale and Broward County has languished for the last several years after shooting up so dramatically. Now that Real Estate has heated up we are finally seeing some upward momentum in these prices, however, not quite as impressive as we find in Single Family.
In Fort Lauderdale, the Average Sale Price for a Condo or Townhouse increased 12.4% to $488,172 based on 1,993 Closed Sales. Statewide, the Average Sale Price for Condominiums and Townhomes rose 10.9% to $303,051. Through the South Florida reporting area of Miami-Dade, Broward and Palm Beach Counties, the AVP increased 9.9% to $333,738, and Broward reported a rise of 11.6% of $247,683.
Once again we see a clear line showing when it comes to Real Estate appreciation Fort Lauderdale is the best location: the whole state reports an increase of 10.9%, South Florida 9.9%, Broward County 11.6%, and Fort Lauderdale 12.4%.
For the record, even in Condos and Townhomes it is still a Seller's Market. Across the state of Florida the Median Percentage of Original List Price received in 2020 was 95.7%, up from 95.0% the previous year, an increase of… Well, hopefully, you can do the math. In the reporting area of South Florida Sellers got 94.5% versus 94.0% the preceding annum. In Broward County this number also increased half a percent, from 94.4% in 2019 to 94.9% in 2020.
Not That Bubble Thing Again
Okay, every time we see such a dramatic rise in home values we get the knee-jerk reaction, ventriloquist dummies running around like Chicken Littles with their heads cut off screaming: "It's a bubble! It's a bubble! It's a bubble!"
First, it is important to view matters in its historical context. Florida Real Estate, and particularly South Florida, has always operated through a series of Boom and Bust Cycles. Broward County and Fort Lauderdale is a unique market all its own which does not march in step with national or statewide trends. Home Values increase steadily - 5-6% annually for a couple years. Then they go nuts, shoot up at a tremendous rate. Twenty percent a year price appreciation is not sustainable, and these sudden increases are usually followed by some kind of a pull back. So it would not be a surprise to see home values retreat somewhat once this incredible hot streak peters out.
What would be a surprise, however, would be for home values to absolutely "crash."
We know the Median Price for a Single Family Residence in Fort Lauderdale rose 19.0% in 2020. Based upon what we are seeing in the market, this trend is continuing so far in 2021. According to statistics the Florida Association of Realtors released for the First Quarter of this year, the Median Price increased 20.8% (over the First Quarter of 2020). Assuming no Acts of God, the total collapse of Western Civilization, this hot market still has a ways to run. Inventory is tight. In large part, much of the run-up in home values has been driven by the influx of buyers from other states: tax refugees from California, others fleeing the Covid-19 ramifications through the Northeast, where housing prices still make Fort Lauderdale look like a bargain.
Remember, there is no more undeveloped land in Broward County, no more wide open tracts upon which to build new developments.
In addition, new reports reveal many Homeowners who have fallen behind in rent or their mortgage have started to make payments, which should eliminate (or at least mitigate) what many thought might be a coming wave of distressed properties hitting the market once the band on evictions and foreclosures was finally lifted.
And (though I get tired of reminding people this) it is inconceivable we will ever seen anything like the real estate crash of 2005. More than just a sudden increase in home prices, that was driven by banks giving out extremely bad mortgages, appraisers getting chummy with Listing Agents.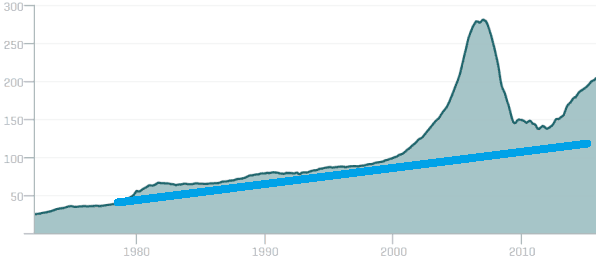 Even so, following that great market crash, home prices in South Florida simply retreated to where they should have been. I have the illustration above on my "Investor Central" page. It is the Standard & Poor's / Case-Shiller Home Price Index for South Florida, released circa 2015 maybe, which shows the big spike in valuations in the early 2,000s, then the precipitous decline. I added the trend line, for it shows how, even after the fall, home prices still came down to roughly where it should have been, perhaps a bit higher.
You might also check the numbers along the very left. I believe these numbers are the Median Price. According to the Year-end Statistics for 2020, the Median Price for a Single Family Home in South Florida was $398,000.