Fort Lauderdale Real Estate 101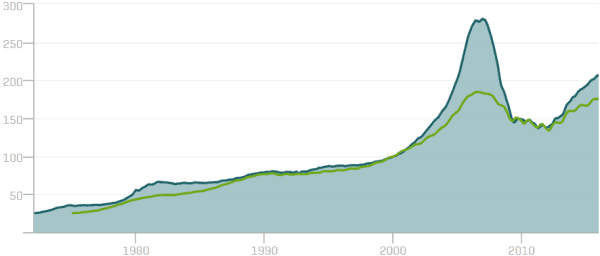 The Real Estate Market in Fort Lauderdale and South Florida is renowned for being both dynamic and unique. Fortunes are made here, and it is like no other housing market in the world. This market marches to its own beat, does not necessarily follow national trends. It is an appreciation driven market. Just look at the S&P / Case-Shiller Home Price Index for South Florida (above) dating back to the 1970s. The Green Line is the Index for the United States. South Florida consistently out-performs the national market.
Yeah, we had a heckuva spike 2003-2005. Still, notice how we spiked higher than the national average. That means a lot more money must've been made. Also note when the market came back down we just ended up where our overall trend line would've been. In addition, notice how the South Florida Real Estate market has out-performed the rest of the country since then.
Want a piece of the action? The first thing you have to realize – this is not exactly an original idea. We have a highly shopped and extremely active market. You are playing in the Big Leagues, swimming with the sharks. Over 60% of the Real Estate transactions in Fort Lauderdale are cash, and the average discount from Listing to Sales Price is 6%. Extreme low-balling is only effective when the Sellers aren't likely to get other offers. Rarely the case down here.
To successfully compete in this dynmaic and unique market you need the expert advice and assistance of a local specialist who can guide you through real estate strategies and business models that work the best in Fort Lauderdale and South Florida. Fortunes can be made here, but you need a realtor who really understands how the local market works.
Me, for instance.