Florida Realtors 2020 Year-End Statistics
Fort Lauderdale Homes Appreciate 19%
Home values in Fort Lauderdale rose 19% in 2020.
To be precise: the Median Price of a Single Family Home in Fort Lauderdale, Florida increased to $500,000, which represents a rise of 19.0% from the previous year, according to statistics compiled and released by the Florida Association of Realtors.
What makes statistics reported by the Florida Realtors particularly valid versus other market reports: they are compiled from numbers generated through the MLS of local realtor associations across the state.
Other municipalities in Broward also reported significant increases in the Median Price of Single Family Homes. Not surprisingly, most of these were more upscale cities along the Atlantic coast: Deerfield Beach up 19.7% on 513 Closed Sales; Pompano Beach up 17.0% on 733 Closed Sales; Lauderdale-by-the Sea up 19.2% after 65 Closed Sales. Even Dania Beach showed a rise in the Median Home Price of 19.7% on 187 Closed Sales.
Now it doesn't take a Rocket Scientist to figure out something's going on when Single Family Homes in Dania Beach increase almost 20% in a single annum.
Aside from the rise in values, these stats seem to indicate home buyers paying a premium for proximity to the beach. Upscale communities in the western reaches of Broward County such as Weston and Parkland reported moderate gains of only 4% and 6.6% respectively (based on 826 and 695 Closed Sales. Other inland bedrooms communities report similar single digit increases: Coral Springs 8.5% on a significant sampling of 1,286 Closed Sales; Pembroke Pines 7.3% on 1,313 Closed Sales.
By the way, in case you're wondering - the 19% increase in Fort Lauderdale homes was based on a rather sizable sampling of 1,793 Closed Sales.
We also see a couple of interesting anomalies in these numbers.
For instance, the Median Price for a Single Family Home in the "city" of Lazy Lake rose an eye-popping 153%. For those who are not familiar with Lazy Lake it is a village of 13 Single Family Homes built around a little lake off North Andrews Avenue. The smallest incorporated city in Broward County, it has one street and a population of 20-some people. This meteoric rise in home values is based upon ONE Closed Sale of $1,080,000.
To the opposite extreme we find Hillsboro Beach, undoubtedly the wealthiest municipality in the County, a row of impressive beachfront mansions stretching north from the Hillsboro Inlet. Based on 7 Closed Sales in 2020 the Median Price increased 25% to $12,500,000. It is all interesting to note these numbers represent a cash purchase ratio of 85%. In other words - 6 out of the 7 Buyers paid cash. Want to have some more fun, figure out the debt service the one Buyer who financed might be paying. On a $10 Million mortgage, even at 3.0%, the interest could total $25,000 a month.
Another anomaly is Southwest Ranches, a community comprised of predominantly multi-acre parcels where residents keeps horses and animals. The only western municipality to show a significant increase, Median Price rose 24.1% to $862,500 based upon 120 Closed Sales.
Where Do I Invest?
Some of the more mercenary of our readers (a.k.a. real estate investors) might be wondering, as you go through these numbers - where's the best place to invest? To me these stats indicate transitory neighborhoods just inland from the coast might offer the best bang for your buck. I never though I'd say these words, but take a look at Oakland Park. From its eastern-most border along Federal Highway in North Fort Lauderdale, stretching west through neighborhoods which are up on their way up, Median Sale Price in Oakland Park increased 13.3% to a relatively reasonable $340,000 on a sampling of 463 Closed Sales.
Condominiums & Townhomes
In Condominiums and Townhomes the statistics tell a different story. This market had been languishing for some years before the influx of Buyers from other states: tax refugees from California, people from the Northeast who came to realize the importance of outdoor living through the Covid-19 pandemic.
Median Price in Fort Lauderdale increased to $335,000, a healthy rise of 11.7% on a substantial sampling of 1,933 Closed Sales. The coastal town of Lauderdale-by-the-Sea also reported a significant rise of 15% to a Median Price of $390,000 on 214 Closed Sales.
Still, in Condos and Townhomes, many municipalities in the western reaches of Broward County still reported healthy increases. Weston: Median Price $268,500, up 9.6% on 346 Closed Sales.
Hollywood: up 13.9% to $205,000 on 1,061 Closed Sales.
Coral Springs: Median Price $159,000, a rise of 9.7% on 586 Closed Sales.
Davie: up 10.3% to $215,00 after 490 Closed Sales.
The most surprising results in the Condominium and Townhome market may be some of the more economical (shall we say) cities through the middle of Broward County.
Lauderdale Lakes up 16.8% to $75,950 on 253 Closed Sales.
North Lauderdale up 19.7% to $191,000 on 207 Closed Sales.
Lauderhill up 16.9% to $95,000, 623 Closed Sales.
Sunrise up 14.0% to $138,000 on 911 Closed Sales.
Tamarac up 13.1% to $155,000, 929 Closed Sales.v
See 2020 Year-End Real Estate Reports
from Florida Association of Realtors
Drill Down Deeper
2020 Median Price Increase by Zip Code
Consistent High Appreciation
What Makes Fort Lauderdale Real Estate The Smart Investment
One of the most highly respected sources of real estate statistics, the CoreLogic Home Price Index, was recently released for September, 2016.
Once again, analyzing these numbers illustrates why buying property in Fort Lauderdale is such a smart investment.
According to this report home values in the Sunshine State appreciated 7.5% in the 12 month period which concluded in September, 2016. That number tops the national average of 6.3% and ranks Florida the 6th best state in the country in home appreciation.
Delving a little deeper into these stats, however, it is particularly intriguing to look at the forecasts for the upcoming year. CoreLogic projects property values in Florida will increase 7% over the next annum. That ranks 3rd best in the U.S. behind California and Nevada, and illustrates the true strength of the Sunshine State's real estate market.
Over the past few months the Pacific Northwest has been very hot. In this Setember 2016 HPI the highest home price appreciation was found in Washington state (10.3%), Oregon (10.1%), Colorado (8.6%), Utah (7.8%) and Idaho (7.7%).
Florida ranked 6th at 7.5%.
Well, every dog has their day. Anytime you see Utah leading the nation in anything other than great salt lakes you have to know there's a story in there somewhere. In large part I think this is because home prices nationwide have recovered unevenly. The whole country took a hit when the nationwide real estate market collapsed. It took a while to stabilize. The more desirable locations like Florida and California snapped back first, then the recovery spread across the rest of the nation, through the Northeast, Midwest and the West.
Still, while other states cycled in and out of the Top Five, the Top 10 in home price appreciation, Florida has remained near the top of the rankings. Maybe it wasn't Number One in the nation, but as these reports were released, month after month, year after year, the Sunshine State was always in the Top Five.
A couple years ago the Midwest was hot. Wisconsin ranked near the top of the nation high in home price appreciation. Before that it was the Southwest; the highest increases in property values were found in Arizona. Before that it was the Northeast - New York and New Jersey. Like hotshot gunfighters riding into town, looking to make themselves a name, these states came and went. Meantime, month after month, year after year, Florida remained high on the list.
The real insight in this latest report can be found not only considering at the appreciation over the past year, but looking at the CoreLogic forecast for the upcoming annum.
Washington reported a home price increase of 10.3%, but CoreLogic projects only 5.8% growth over the course of the upcoming year. Oregon homes went up 10.1%, yet the forecast for the next annum is only 6.1%. Colorado showed an 8.6% increase; projection for the next 12 months is 5.7%. Utah and Idaho reported increases of 7.8% and 7.7% respectively for the year ending in September 2016, but over the next annum home values in those states are only projected to rise 5.1% and 4.9%.
According to this CoreLogic HPI home prices in Florida rose 7.5% in the 12 months which concluded in September, 2106, but are projected to increase 7% over the next year. That ranks 3rd in the United States.
What does this tell you? First, it is relatively obvious these other markets are experiencing a temporary uptick in high appreciation as the housing recovery cycles through their geographic region. Secondly, that Florida's real estate market offers a much more consistent, reliable appreciation. This is what has always made the state, and South Florida especially, such an attractive location for investors, and frankly anyone who wants to make money in real estate.
Florida is an appreciation driven market, which has always operated on a boom and bust cycle. In a normal year home prices will typically appreciate 7-8%. Perhaps once a decade the market spikes and you'll see property values increasing 10-12%, sometimes even more, but those times are usually followed by periods of consolidation when the market cools.
In Fort Lauderdale and Broward County, specifically, home prices are projected to keep rising at a significant rate. It is all but inevitable. Not only because Fort Lauderdale is a tropical paradise with no state income tax and a relatively low cost of living where you can swim in the ocean all year round and you must remember to turn on your car heater every so often, not because you need it, but just to keep it from rusting through. It's a simple matter of supply and demand.
There is an old adage which is usually recited about beach front property: "They're not making any more of it."
That has never been truer than it is in Fort Lauderdale, the primo location in the state of Florida. There is only so much land. Broward County is not large, approximately 27 miles north and south, perhaps 45 miles east to west. However, around 60% of this geographic area is comprised of wetlands which cannot be developed without cutting off their own water supply. They can no longer build any anything else beyond the Sawgrass Expressway and US-27, which are somewhere between 10 and 15 miles from the coast. The entire county is 1,320 square miles with 115 square miles of waterways, but when you boil it all down this leaves only 471 square miles of developable dry land.
At this point this developable land is now 99.99% developed. There are no more swaths of scrub forest east of US-27 and the Sawgrass which can be bull-dozed into housing projects. Occasionally you see quotes from developers bemoaning the fact there's no more chunks of empty land. This is like a whaling boat Captain complaining it's getting harder to find Sperm Whales. You know, pal, if you weren't there SHOOTING THEM WITH HARPOONS, might be a few more of them around.
Still, drive the Sawgrass Expressway through northern Broward you see housing developments and commercial properties along the east side of the road, and along the west side of the highway it is literally The Everglades - whip grass, wading birds and alligators.
The lack of land, however, is not stopping the influx of people moving on down. Florida recently surpassed New York as the third most populous state in the nation. This trend will undoubtedly continue as Baby Boomers across the U.S. retire and seek a warmer climate. You never have to shovel sunshine off your driveway. Broward County is simply the most desirable part of the state. In 1960 they took the Census, there were 60,000 residents. Ten years later in 1970 there were 600,000. Currently the population is around 1.75 million and projected to climb to almost 2.3 million by the year 2020.
That's over a half million more residents - an additional 31% - moving into the same 471 square miles of developable dry land.
Talk about a No Brainer, this would seem to be a simple matter of connecting the dots, what this should mean for property values in Fort Lauderdale and throughout Broward County. 1) We don't have much land. 2) The population is growing.
Add these factors up significant appreciation in property values seems relatively inevitable. In addition, whatever rate of appreciation you might wish to forecast for the overall county-wide average, it will undoubtedly be greater in prime real estate such as waterfont homes, oceanfront condos, houses and townhomes in the better nieghborhoods along the coast.
To read a detailed analysis of the prospects for appreciation in Fort Lauderdale property values, click on button below.
12 Things You Must Know
How to Buy Foreclosures
A lot of attention, in many cases too much attention, in today's market is focused upon Foreclosures, also known as REOs (Real Estate Owned). Many people believe in the old adage: "One man's trash is another man's treasure." There are, however, several other old sayings you would be wise to live by. "When something sounds too good to be true, it usually is." The other is: "Buyer beware."
True, you can find some good deals in REOs, and they might make more sense for certain investors, however we would not limit yourself to shopping Foreclosures. Buyers should not overlook regular old-fashioned sales. If a homeowner needs to sell his house they cannot List it appreciably higher than the Foreclosure or Short Sale next door, on his block, in his neighborhood.
To compete successfully in the Foreclosure market you must understand the way things work, follow methods which are at this point established. Here's a few things you should know, be prepared for:
1.) Remember Foreclosures by definition represent a home someone has walked away from. This is not an overnight process. It took months, probably over a year to get these people out. They occupied the premises for months and months not paying anything, waiting for the axe to fall. Very few care about or can afford to maintain these properties and many, in anger and resentment, pulled appliances and fixtures, perhaps even damaged the home before they left. After that the property might've sat vacant for months before the Bank managed to list it for sale. If you are not in construction, if you're not much of a Do-It-Yourselfer, if you don't have a reliable and inexpensive source for remodeling...
To Read The Rest of This Article Click Button Below
To read a detailed analysis of the prospects for appreciation in Fort Lauderdale property values, click on button below.
Ft Lauderdale Real Estate News 9/17/16
10 Tips from Real Estate Pros to Boost The Value of Your Home Before Listing it For Sale
With housing prices increasing, now is the time invest in your home to capitalize on its value. Here's what veteran real estate professionals from around the country have to say about what home improvement projects pay off, whether you are selling now or in the future.
1. Create Space
Knock out a non-structural wall, or even remove that kitchen island. Anything that opens the space and creates a sense of flow in the house is generating a response from buyers who can afford to be choosy. For the price of a few hundred dollars, you'll transform the feel of the house. "Right now buyers want a wide open floor plan, the living room right off the kitchen. They are into big spaces," says Kristin Wellins, Senior Manager of Program Development for ERA Real Estate.
Seattle broker Reba Haas says a kitchen island can be an asset, creating needed storage space. But if the kitchen has enough cabinets, it could pay to haul the island away. Haas says homeowners might want to consider a moveable island. "You can adjust them to you needs," she explains.
2. Prune, Limb, and Landscape
Tangled trees and unkempt bushes can obscure views, darken interiors, promote mold, and block a good look at the house."People forget about their trees more than almost anything," says Roger Voisinet, a thirty-year veteran of the Charlottesville, Virginia real estate market. Yet, landscaping is one of the top three investments that bring the biggest return. According to a 2007 survey of 2,000 brokers conducted by HomeGain, an online real estate marketing site, an investment of around $400 or $500 dollars in landscaping, can bring a return of four times that. "It could really make a significant difference in the price. Nobody likes to spend money, but landscaping might even be the most important thing, even if owners have kept up the house," says Voisinet.
Reba Haas agrees, "Overgrown landscaping is a problem at all price points." Haas says it hurts with marketing too. "People say, 'Where's the house?" If buyers can't see what they are getting, they just move right on."
And if neglected, mother nature may go wild at considerable cost. Voisinet looked at one house recently where a fallen limb from a poorly cared for tree caused $2,000 in damage.
3. Let in the Light
The number one item on the 2007 HomeGain survey, lighting—everything from a dimmer switch to the increasingly popular sun tubes—noticeably enhances a home's appeal. California broker Robert Bailey says, "Dimmers allow you to create a mood."
He's a booster of sun tubes, too. Less expensive than framing in a skylight, sun tubes—also known as light pipes, sunscoops, and tubular skylights—use reflective material to funnel natural light from a globe-capped hole cut in a rooftop down through a ceiling fixture and into a room. Bailey says, with tubular skylights, sunlight is nice, and moonlight is even nicer. "I'm putting six of them in my house. I don't need a skylight, but I do want the natural light."
A few other ways to light things up: Fix broken panes, make sure windows open, and consider lights that use motion detectors to turn themselves off. Remember high wattage bulbs make small spaces feel larger, and soft lighting brings warmth to empty spaces.
4. Don't Put Off Care and Maintenance
Before thinking about a fancy upgrade to the kitchen, address the basics. Insulate the attic, repair plumbing leaks, replace rusty rain gutters, inspect the furnace and the septic system, replace or repair leaky windows, install storm doors, weed the flower beds. As broker Robert Bailey says, "What you don't notice as a weed, I see as a weekend of work."
These kinds of fixes go a long way toward value. Jessica Gopalakrishnan with HomeGain says, "Starting with a couple hundred dollars on a few things could increase the value of your house by a few thousand dollars. People are surprised by that. It's exciting. People think they have to put in a lot of money to see a big difference and they really don't."
Investing in maintenance and repairs is not only moneywise; could also be crucial to a sale. Brokers and agents from across the country say the houses that get attention in this buyers market are in tip-top shape. John Veneris, the regional vice president of the National Association of Realtors in Downers Grove, Illinois, says, "What's important in this market, now more than ever, because there is so much inventory, the houses that sell are in pristine condition and are priced to the market."
5. Go Green
If maintenance and repairs are in hand, Virginia broker Roger Voisinet says put the greenbacks into green efficiency. If your heating or air conditioning systems are old, "new ones are so much better, with savings of up to 30 to 40%." Another example he points to: for $7,000 for the unit and installation, with $2,100 back in green tax credits, a solar-powered water heater could save you as much as 80% on your water-heating bills.
Research published by The Appraisal Journal estimates that energy savings add twenty times the annual savings to the value of your property. Though Roger Voisenet cautions, "a lot of appraisers don't know that yet," he says buyers appreciate now what appraisers will recognize later: Energy savers make your house more desirable. Says Seattle broker Reba Haas, "Do the update green, because everyone is now, for the first time in five years, asking about the utilities."
6. Home Begins at the Front Door
ERA's Kristin Willens says, "Don't underestimate the power of a front door. People make up their minds in the first seven seconds of entering a house."
Surveyed brokers like a working door bell, and Voisinet says don't forget an overhang, such as an awning or portico, above the front door. "If you don't have a way out of the rain, or shelter from the sun while you are fumbling for your keys, you are really missing out."
If you're up for more exterior upgrades, move to the back or sides of the house. John Veneris, the regional vice president of the National Association of Realtors in Downers Grove, Illinois, says, "People get back dollar for dollar for the decks they put in." Even in the snow-laden housing market of Craig, Colorado, Realtor Vicki Burns says the right deck on the right house can be an eye-catcher. "I had a home come onto the market with a small yard. It was about 20 by 30. The owner had encompassed almost the whole area with a deck. The buyers really liked that. It dressed it up and enhanced the area, making it an extension of the living space." Burns notes, "If the deck is done with the right material so that it will stay nice-looking and in good shape, it'll hold value."
7. What's Under Your Feet?
Don't undervalue the materials you're standing on. Ninety-four percent of real estate pros recommend spending some money on floors. But it doesn't have to be a lot of money. For an estimated average investment of $600 to $900, brokers report that the return in value comes in at up to $2,000.
And you can spend even less than that. A few well-placed nails can eliminate distracting squeaks. Other small projects with a big impact include repairing broken tile, patching damaged floor boards, and tossing out the wall-to-wall carpeting.
In some cases, however, a new floor is in order. Broker Reba Haas says one would-be seller's house might've sold were it not for a kitchen floor that drew questions from buyers. "The number one problem was the fact that her floor was really personal: blue and green vinyl. It clashed with the other upgrades in the kitchen. Everyone kept saying, 'That kitchen!'"
If you want a wood floor that holds value, Reba Haas suggests engineered hardwoods. If you like cork, she says floating cork wears better than cork tile which is glued down and can peel.
8. Easy Bath Upgrades
Brokers, one and all, say spiffing up the kitchen and bath is a sure bet for adding value to your home. Surveyed brokers say these kinds of improvements can get expensive. It may not be economical to do a major renovation if you are trying to spend as little as possible before putting a house up for sale. But some upgrades are cheap, easy, and fast...especially in the bathroom.
Replace frosted glass for clear glass, clean the grout, remove rust stains, apply fresh caulk, update doorknobs and cabinet pulls, replace faucets, and install a low-flush toilet. Even buying a new toilet seat can make a difference. Bailey says, "You can spend $500 on a bathroom, and it's totally tuned up."
9. Neutral Wall Colors
If you're getting ready to put a house on the market, don't allow walls with chipped paint to go unmaintained. If you need to do more than a touch up, choose neutral colors.
Broker Reba Haas says, "Get out of your personal taste." She says buyers want to be able to project their own ideas onto a space, and sellers can help with toned-down wall color.
10. Remove the Question Marks from Your House
Haas calls it the "What's that?" factor, and whatever it is (1950s wallpaper in a 1930s bungalow, a broken front step or cracked threshold, green-and-blue vinyl flooring), fix it or remove it. She recommends getting the impartial advice of a friend who can tell you what's drawing attention and raising questions for the wrong reasons. "The more questions, the more people are likely to say, 'We don't want that house.' Sometimes it's the quick fix that someone put in thinking, 'I can live with it.''' Haas says those fixes bite you back later when it's time to sell because prospective buyers are looking for more than jerrybuilt solutions.
© 2016 This Old House
Research Florida Real Estate Statistics
Click Button below, go the Research & Statistics Page
of the Florida Association of Realtors.
Many Reports are Publicly Available. Some are Members Only.
Should you be interested in a report which is only available to Association Members,
feel free to give me a call. I'll be happy to download one for you.
It's not like this stuff is Top Secret or anything.
Some Charts you might find interesting
Freddie Mac Home Price Index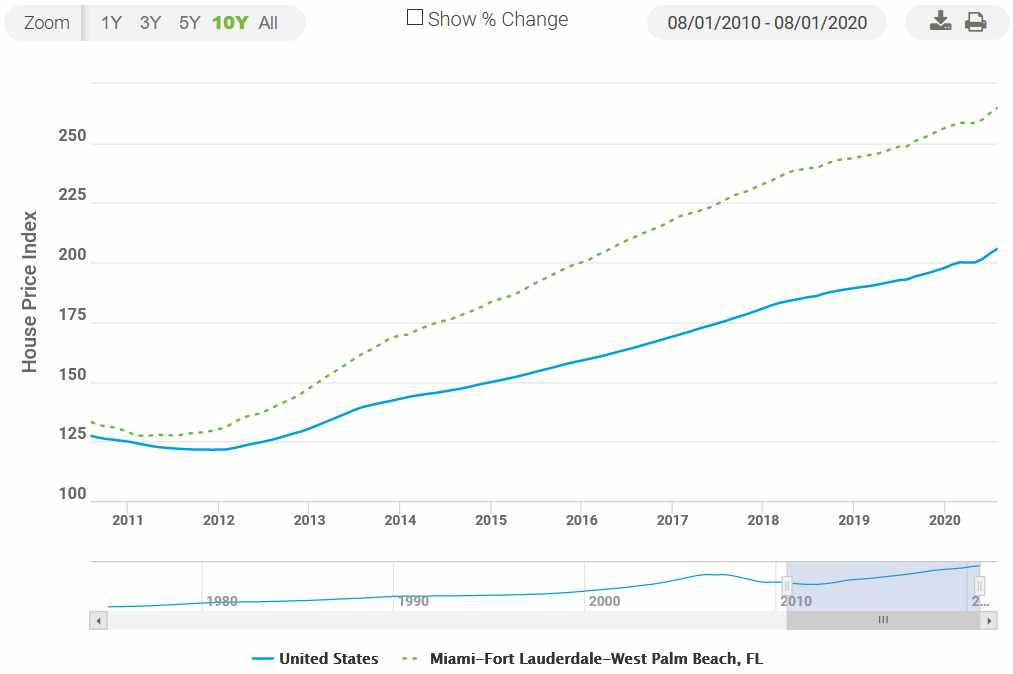 South Florida (Dotted Green) versus United States (Blue)
Over The Past 10 Years
Total Tax Burden by State
Run Cursor over map to see where each State ranks.
Real Estate Taxes
Run Cursor over map to see where each State ranks.
Jim Esposito
954-336-3776 Mobile
Mobile Users
Call Me