Consistent High Appreciation
What Makes Fort Lauderdale Real Estate The Smart Investment
One of the most highly respected sources of real estate statistics, the CoreLogic Home Price Index, was recently released for September, 2016.
Once again, analyzing these numbers illustrates why buying property in Fort Lauderdale is such a smart investment.
According to this report home values in the Sunshine State appreciated 7.5% in the 12 month period which concluded in September, 2016. That number tops the national average of 6.3% and ranks Florida the 6th best state in the country in home appreciation.
Delving a little deeper into these stats, however, it is particularly intriguing to look at the forecasts for the upcoming year. CoreLogic projects property values in Florida will increase 7% over the next annum. That ranks 3rd best in the U.S. behind California and Nevada, and illustrates the true strength of the Sunshine State's real estate market.
Over the past few months the Pacific Northwest has been very hot. In this Setember 2016 HPI the highest home price appreciation was found in Washington state (10.3%), Oregon (10.1%), Colorado (8.6%), Utah (7.8%) and Idaho (7.7%).
Florida ranked 6th at 7.5%.
Well, every dog has their day. Anytime you see Utah leading the nation in anything other than great salt lakes you have to know there's a story in there somewhere. In large part I think this is because home prices nationwide have recovered unevenly. The whole country took a hit when the nationwide real estate market collapsed. It took a while to stabilize. The more desirable locations like Florida and California snapped back first, then the recovery spread across the rest of the nation, through the Northeast, Midwest and the West.
Still, while other states cycled in and out of the Top Five, the Top 10 in home price appreciation, Florida has remained near the top of the rankings. Maybe it wasn't Number One in the nation, but as these reports were released, month after month, year after year, the Sunshine State was always in the Top Five.
A couple years ago the Midwest was hot. Wisconsin ranked near the top of the nation high in home price appreciation. Before that it was the Southwest; the highest increases in property values were found in Arizona. Before that it was the Northeast - New York and New Jersey. Like hotshot gunfighters riding into town, looking to make themselves a name, these states came and went. Meantime, month after month, year after year, Florida remained high on the list.
The real insight in this latest report can be found not only considering at the appreciation over the past year, but looking at the CoreLogic forecast for the upcoming annum.
Washington reported a home price increase of 10.3%, but CoreLogic projects only 5.8% growth over the course of the upcoming year. Oregon homes went up 10.1%, yet the forecast for the next annum is only 6.1%. Colorado showed an 8.6% increase; projection for the next 12 months is 5.7%. Utah and Idaho reported increases of 7.8% and 7.7% respectively for the year ending in September 2016, but over the next annum home values in those states are only projected to rise 5.1% and 4.9%.
According to this CoreLogic HPI home prices in Florida rose 7.5% in the 12 months which concluded in September, 2106, but are projected to increase 7% over the next year. That ranks 3rd in the United States.
What does this tell you? First, it is relatively obvious these other markets are experiencing a temporary uptick in high appreciation as the housing recovery cycles through their geographic region. Secondly, that Florida's real estate market offers a much more consistent, reliable appreciation. This is what has always made the state, and South Florida especially, such an attractive location for investors, and frankly anyone who wants to make money in real estate.
Florida is an appreciation driven market, which has always operated on a boom and bust cycle. In a normal year home prices will typically appreciate 7-8%. Perhaps once a decade the market spikes and you'll see property values increasing 10-12%, sometimes even more, but those times are usually followed by periods of consolidation when the market cools.
In Fort Lauderdale and Broward County, specifically, home prices are projected to keep rising at a significant rate. It is all but inevitable. Not only because Fort Lauderdale is a tropical paradise with no state income tax and a relatively low cost of living where you can swim in the ocean all year round and you must remember to turn on your car heater every so often, not because you need it, but just to keep it from rusting through. It's a simple matter of supply and demand.
There is an old adage which is usually recited about beach front property: "They're not making any more of it."
That has never been truer than it is in Fort Lauderdale, the primo location in the state of Florida. There is only so much land. Broward County is not large, approximately 27 miles north and south, perhaps 45 miles east to west. However, around 60% of this geographic area is comprised of wetlands which cannot be developed without cutting off their own water supply. They can no longer build any anything else beyond the Sawgrass Expressway and US-27, which are somewhere between 10 and 15 miles from the coast. The entire county is 1,320 square miles with 115 square miles of waterways, but when you boil it all down this leaves only 471 square miles of developable dry land.
At this point this developable land is now 99.99% developed. There are no more swaths of scrub forest east of US-27 and the Sawgrass which can be bull-dozed into housing projects. Occasionally you see quotes from developers bemoaning the fact there's no more chunks of empty land. This is like a whaling boat Captain complaining it's getting harder to find Sperm Whales. You know, pal, if you weren't there SHOOTING THEM WITH HARPOONS, might be a few more of them around.
Still, drive the Sawgrass Expressway through northern Broward you see housing developments and commercial properties along the east side of the road, and along the west side of the highway it is literally The Everglades - whip grass, wading birds and alligators.
The lack of land, however, is not stopping the influx of people moving on down. Florida recently surpassed New York as the third most populous state in the nation. This trend will undoubtedly continue as Baby Boomers across the U.S. retire and seek a warmer climate. You never have to shovel sunshine off your driveway. Broward County is simply the most desirable part of the state. In 1960 they took the Census, there were 60,000 residents. Ten years later in 1970 there were 600,000. Currently the population is around 1.75 million and projected to climb to almost 2.3 million by the year 2020.
That's over a half million more residents - an additional 31% - moving into the same 471 square miles of developable dry land.
Talk about a No Brainer, this would seem to be a simple matter of connecting the dots, what this should mean for property values in Fort Lauderdale and throughout Broward County. 1) We don't have much land. 2) The population is growing.
Add these factors up significant appreciation in property values seems relatively inevitable. In addition, whatever rate of appreciation you might wish to forecast for the overall county-wide average, it will undoubtedly be greater in prime real estate such as waterfont homes, oceanfront condos, houses and townhomes in the better nieghborhoods along the coast.
To read a detailed analysis of the prospects for appreciation in Fort Lauderdale property values, click on button below.
12 Things You Must Know
How to Buy Foreclosures
A lot of attention, in many cases too much attention, in today's market is focused upon Foreclosures, also known as REOs (Real Estate Owned). Many people believe in the old adage: "One man's trash is another man's treasure." There are, however, several other old sayings you would be wise to live by. "When something sounds too good to be true, it usually is." The other is: "Buyer beware."
True, you can find some good deals in REOs, and they might make more sense for certain investors, however we would not limit yourself to shopping Foreclosures. Buyers should not overlook regular old-fashioned sales. If a homeowner needs to sell his house they cannot List it appreciably higher than the Foreclosure or Short Sale next door, on his block, in his neighborhood.
To compete successfully in the Foreclosure market you must understand the way things work, follow methods which are at this point established. Here's a few things you should know, be prepared for:
1.) Remember Foreclosures by definition represent a home someone has walked away from. This is not an overnight process. It took months, probably over a year to get these people out. They occupied the premises for months and months not paying anything, waiting for the axe to fall. Very few care about or can afford to maintain these properties and many, in anger and resentment, pulled appliances and fixtures, perhaps even damaged the home before they left. After that the property might've sat vacant for months before the Bank managed to list it for sale. If you are not in construction, if you're not much of a Do-It-Yourselfer, if you don't have a reliable and inexpensive source for remodeling...
To Read The Rest of This Article Click Button Below
To read a detailed analysis of the prospects for appreciation in Fort Lauderdale property values, click on button below.
Some Charts you might find interesting
Fort Lauderdale Home Price Index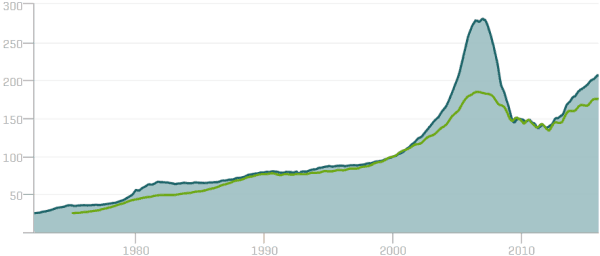 The latest Standard & Poor's / Case-Shiller Home Price Index
for South Florida (the Fort Lauderdale, Miami-Dade and Palm Beach reporting area)
versus the U.S. Average
Median Sale Price History Single Family Homes in Fort Lauderdale (Broward)
Foreclosure Activity Top 10 States
Florida Foreclosures Drop 39%
Florida's 39% Reduction in Foreclosure Activity in 2015 was the sharpest decline of any state according to the Black Knight Financial Services Mortgage Monitor Report. Based upon current Foreclosure Sales activity Florida has only a 3 Year Pipeline
Year By Year Foreclosure Activity
Source: Black Knight Financial Services Mortgage Monitor Report, December 2015
Foreclosure Down 30% In Past Year
Interactive Chart
Foreclosure Rates, Broward County
(Run your mouse over the Zip Codes to see)
Year End Real Estate Market Reports
Click on the buttons to download a pdf of statistical reports.
Fort Lauderdale A Top Market for Home Appreciation
The Best Home Appreciation in The U.S.
Freddie Mac Fort Lauderdale HPI
Freddie Mac U.S. House Price Index
The latest Freddie Mac National House Price Index
Property Taxes vs. Median Price
Florida ranks 29th Among All States
(Click on Graphic Below to Call Up / Download Larger pdf Version)
Jim Esposito
954-785-8558 Office
954-336-3776 Mobile
Mobile Users
Call Me