From Big Bang to Present Day
When considering the history of Fort Lauderdale and the state of Florida, two interesting facts pop out:
First, the entire state itself was essentially a foreclosure. Florida was ceded to the United States by Spain in 1819 in exchange for the forgiveness of a $5 million debt.
Secondly, Major William Lauderdale, after whom Fort Lauderdale was named, only spent about a month in the neighborhood.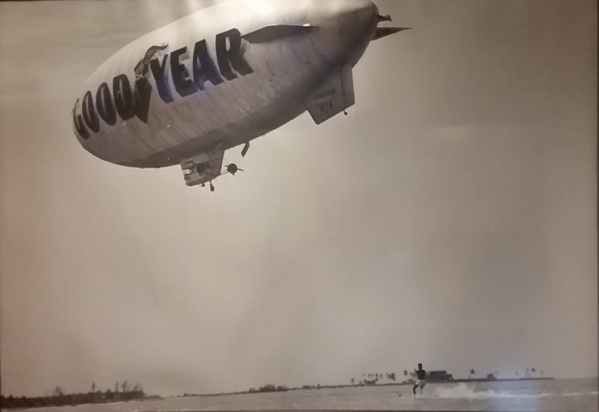 People in Florida see things differently. Surprised this guy doesn't have a fishing pole, trolling.
The Wayback Machine
Once the Earth cooled and the dinosaurs died after that asteroid impact, the crater of which is now called the Gulf of Mexico, the southeastern region of the Floridian peninsula was originally inhabited by the Tequesta tribe of Native Americans, according to archaeological evidence dating back some 4,000 years.
A socio-politically complex society whose main village was located at the mouth of the Miami River along the shores of Biscayne Bay, Tequesta culture centered around dugout canoes, carved by honored craftsmen with crude tools fashioned from sea shells. Picking through ancient trash heaps archeologists found bones from a wide variety of wildlife and fish, including deep water species such as mako sharks, swordfish and right whales.
Think about the (shall we say) fortitude required to paddle a dugout canoe into the ocean to go after blue water sharks and 40-foot whales. It brings a whole new meaning to the term "Stone Age."
Dating back through the Middle to Late Archaic era from 5,000 to 2,500 years ago, the region which eventually became Broward County was largely swamp. Aside from high ground along the Atlantic Ocean, researchers uncovered evidence of Tequesta inhabitation at Pine Island Ridge, then a string of limestone islands rising from the Everglades, and also around the fork of the New River, now the Sailboat Bend neighborhood of Fort Lauderdale.
Tequesta, like other tribes around South Florida, were hunters and gatherers who relied mainly on fish, shellfish, berries and nuts for food. Men in dugout canoes caught fish and hunted deer, wild boar, small animals in the Everglades. The manatee (or sea cow) was considered a delicacy, served only to chiefs and prominent leaders. Women and children collected clams, conchs, oysters, and turtle eggs in shallow water. Tequesta also gathered palm nuts, sea grapes, coco plums and palmetto berries, made flour by grinding roots of certain plants, fashioned crude tools like hammers, chisels and spearheads from shark teeth and shells.
Most people believe the peninsula was named Florida because it was discovered on Easter Sunday by Spanish explorer Juan Ponce de Leon, who was searching for the fabled Fountain of Youth. Not entirely true. Ponce de Leon landed on what he thought was a large island on April 2, 1513, which was a Wednesday. He named it "La Florida," meaning "full of flowers," since the date fell within the Spanish feast of Easter, Las Pascua de la Florida.
As for the Fountain of Youth, there is no contemporary evidence or reference to this, so most historians regard it a myth, unless it might be a somewhat prophetic allusion to the tap off a beer keg at Spring Break. Which, in a nifty coincidence, occurs around Easter.
The arrival of civilized people allegedly questing for eternal life did not help the Tequestas much. They did not welcome these new visitors when they first began arriving through the 1500s, but eventually Europeans won their friendship trading knives, rum and colored cloth. At their peak it is estimated the Tequesta numbered around 800, however, like other primitive cultures lucky enough to get discovered they were rapidly decimated by exposure to European borne diseases to which they had not developed any natural resistance.
There Goes The Neighborhood
Though St. Augustine, founded in 1565, is the oldest (continuously inhabited, by Europeans) city in what is now the continental United States, the Floridian peninsula remained sparsely settled for centuries, with so few inhabitants the Spanish never saw any reason to build any fortifications farther south. By the late 1700s it was estimated only 80 Tequesta remained in Southeast Florida. When the territory was ceded to England by the 1763 Treaty of Paris ending the Seven Years' War, fearing they would be captured and turned to slaves (wonder where they got that idea) they fled to Cuba and the Florida Keys.
The British would only rule Florida for 20 years. In one of the earliest recorded instances of "Déjà Vu All Over Again" it was ceded back to Spain by the Treaty of Paris (1783), which ended the American Revolutionary War.
Through this period a Dutch-born, English educated surveyor, naturalist and cartographer named Bernard Romans who worked in the British colonies, traveled extensively through the peninsula. In 1775 he published "A Concise Natural History of East and West Florida," producing some of the most accurate maps and charts of that era. On his map we clearly see "Rio Nuevo" at the latitude of 26 degrees north, about the point along the coast you would expect to find Fort Lauderdale.
In 1789 the first permanent European settlers moved in. Bahamians of English descent, Surles and Frankee Lewis, with their three sons, established a farm near the fork of the New River, joined several years later in 1793 by the family of an associate, Captain Joseph Robbins. They grew oranges, lemons, limes, coconut and guava, which they would sail back to New Providence to sell and barter for supplies, along with venison hams from deer they hunted, oil extracted from fish they caught or harpooned.
At that time the New River inlet was located farther south, near what is now Sheridan Street in Hollywood. A sandbar by its entrance made it sometimes impassable, and through that era the river's entry to the Atlantic Ocean tended to change due to shifting sands of the barrier island. Once inside, a sound and river wound north through Lake Mabel, which would later become Port Everglades.
Legends say Rio Nuevo had been named by local Seminoles because it had appeared suddenly one day after a night of high winds, loud noises and shaking ground. The theory was an earthquake fractured the roof of an underground river, and the Indians dubbed it Himmarshee, meaning "new water."
A nice story, which first emerged in 1940, suspiciously ex post facto to some. In reality there's little seismic activity in this part of the globe. Not to mention, the Seminoles themselves did not start arriving in the neighborhood until the 1700s. Through the early 18th Century refugees from other Native American tribes such as the Creeks, Euchee and Yamasee, chased from their home lands by European colonization, migrated to the wilderness of Spanish Florida. Eventually they became known as the Seminoles, derived from the Creek word simano-li, which translates into "runaway," "frontiersman" and/or "outcast."
The Big "Que Pasa?" of 1792
You wouldn't think two English families carving out a meager existence from a wilderness outpost in the scrub forest along a vast swamp which Spain had neglected for centuries would have been much of a concern, but the establishment of New River Settlement sent ripples of paranoia through the Spanish government.
Though Spain had no forts or outposts south of their capitol of St. Augustine, had not built any roads or rail lines through the peninsula, when word reached Governor Juan Nepomuceno de Quesada he was nevertheless upset at the thought of British colonists in South Florida.
Quesada did have reasons to be paranoid. No longer the nation of conquistadores, Spain had already lost "La Florida" to the British in 1763, regaining it two decades later following Britain's defeat in the American Revolution. Now the Spanish were watching the ascension of the upstart United States to the north, were facing a possible war with France, and had to deal with Indian uprisings along the western border of their territory (now the Georgia/Alabama state line) where the Spaniards were constantly harried by a frontier adventurer named William Augustus Bowles.
Born in Maryland, at 13 years of age Bowles enlisted in the Loyalist Battalion, a provincial British regiment of American colonials, which was dispatched to a fort in Pensacola. He was captured and adopted by Creek Indians. When Spain began raiding British outposts along the Gulf Coast, Bowles convinced the Creeks to help the English. During one attack the fort at Pensacola was destroyed when shelling from Spanish ships ignited its powder magazine. Bowles escaped into the wilderness, and for the next 20 years he rallied local native Americans to rebel against Spanish authority.
In 1788 Bowles sailed across from the Bahamas, landing near the Miami River, assembled a band of Indians and brigands, pillaged his way up into Central Florida, attacking a trading post owned by the Hambly family southwest of St. Augustine.
According to reports Spanish Governor Quesada received the southeast coast of Florida was infested with "pirates and rogues." (Some things never change.) As a result when the Spanish governor received a subsequent report in the fall of 1792 that Surles Lewis had settled along Rio Nuevo he was concerned the small farm might serve as a way-station for British adventurers, scoundrels and blackguards who could be confederates of William Bowles.
With an undermanned garrison, and on alert to a potential attack from the French, Quesada couldn't dispatch troops, so he commissioned a close friend, Captain Sebastian Verezaluze, to lead a subtle spy mission "to investigate with secrecy and skill the condition in which the Englishman (Charles Lewis) finds himself, supposedly established with his family on the coast of Florida."
This expedition accomplished little, however, their reports to Governor Quesada describe the earliest known accounts of what life was like in the location which would one day become Fort Lauderdale.
Sailing from St. Augustine on February 23, 1793 in the schooner Juan Nepomuceno, these Spaniards were under orders to remain friendly, pose as commercial travelers heading for Havana, carrying firearms only intended for game hunting. Accompanying Verezaluze was John Hambly, one of the governor's most trusted Indian agents and a member of the family who owned the trading post William Bowles had attacked. Emptying the schooner's water casks as they approached, they'd say they were searching for fresh water. Meantime, the crew was instructed to observe as many details as possible about the British settlement, the number of people and buildings on the river, report if they uncovered any indication William Bowles might be mounting another raiding party.
The Juan Nepomuceno arrived at the New River inlet on the morning of March 6th. In 1793 this was around what is now Sheridan Street in Hollywood. By 1:00 p.m. the tide had come in enough for the ship to clear the sandbar at its mouth, enter New River Sound, sail north five miles to the tree-lined river itself.
At 3:30 a small wooden house was spotted along the south bank. A man emerged with a rifle. The party went ashore, shook hands with the man, who introduced himself as Joseph Robbins, explaining he had previously resided two miles farther west, where the river forked, on a plantation owned by an Englishman named Surles Lewis.
The Spaniards fed him their cover story about searching for fresh water. Robbins explained Surles Lewis was not there at that time, having departed on one of his frequent trips to the island of New Providence in the Bahamas, where he could visit old friends, trade for supplies.
That evening Robbins' wife cooked freshwater trout and the governor's spies shared wine, rum and biscuits.
In his log John Hambly reported: "The house stands on a pine bluff on the south side of the river, about 10 yards distant. About 30 yards from the dwelling house stands a small house which we found to be a blacksmith's shop. This shop is said to belong to Lewis and that when here he makes harpoons for his own use."
The Spaniards stayed two days, got fresh water, departing on March 8th, sailing south like they were heading for Havana before turning north at Key Biscayne and setting course for St. Augustine.
Captain Verezaluze and John Hambly submitted reports detailing information about buildings, livestock and people living along the river. Though their observations outlined they had not found anything suspicious, instead of a tiny outpost of 10 settlers farming along Rio Nuevo Governor Quesada concluded it was a "nest of enemies" which he needed to "break up." He wrote a letter to the Governor-General in Havana, suggesting they offer a reward to a band of Indians to seize Lewis and his family, secretly convey them to a Spanish prison.
Fortunately for the Lewis family, around the time Governor Quesada's letter reached Havana the Governor-General had bigger fish to fry, for he also received orders from Madrid to be alert for hostile actions from France.
Within three years, Quesada retired. Along with one of his sons, Surles Lewis drowned when their ship sank on a voyage to the Bahamas. His widow, Frankee, filed a claim with the Spanish authorities for the land along New River, which was approved. Three years after the United States acquired Florida, in 1824, the elderly widow was granted 640 acres, which now comprises most of downtown Fort Lauderdale. She sold it six years later for $400, moved to live with two of her children along the Miami River. By then, New River Settlement boasted a population of 60.
As for William Augustus Bowles, he continued living a life out of a swashbuckling Sabatini novel.
Following the American Revolution King George III received Bowles as Ambassador to the Creek and Cherokee Nations, and with British backing he returned to Florida. In 1795, with the Seminoles, he formed the short-lived State of Muskogee in northern Florida, with himself as "Director General," married two Indian princesses. Designing a flag and crafting a constitution, Bowles raised an army of 400 frontiersmen, former slaves and native American warriors, declared war on Spain, raiding their outposts and settlements.
In response, the Spanish put a bounty on his head - $6,000 and 1,500 kegs of rum. Bowles was captured, transported across the Atlantic to Madrid, where King Carlos IV made him an offer he couldn't refuse, to get Bowles to change sides. Instead, he escaped, commandeered a ship, set sail for the Gulf of Mexico, where he became a pirate, a scourge upon the powerful firm of Panton, Leslie & Company, who controlled much of the trade with the Creeks, Seminoles and Cherokees, using their influence among the native American tribes to advance Spanish territorial claims.
Eventually, William Bowles was betrayed, turned over to the Spanish, and imprisoned in the dungeons of the Castillo Morro fortress in Havana, Cuba. Refusing to eat he died in 1805.