Homes and condominiums in Broward, Miami-Dade and Palm Beach counties are projected to rise $83.3 billion in cumulative value in 2013 according to Zillow.com.
This follows an increase of $49.5 billion for 2012.
According to a report released by the Seattle-based Zillow South Florida ranked fourth nationwide in total gains, behind Los Angeles ($323.1 billion), San Francisco ($159.2 billion) and New York ($123.1 billion).
Home values across the United States will gain almost $1.9 trillion in cumulative value this year compared to 2012.
Thatís the largest increase since 2005 and the second annual gain since home values fell every year from 2007 through 2011. The nationís housing market lost $6.3 trillion in total value between 2007 and 2011.
"In 2013, the housing market continued to build on the positive momentum that began in 2012, after the housing market bottomed," said Zillow Chief Economist Stan Humphries. "Low mortgage rates and an improving economy helped bring buyers into the market, boosting demand and driving prices up. We expect these gains to continue into next year, though at a slower pace. The housing market is transitioning away from the robust bounce off the bottom we've been seeing, toward a more sustainable, healthier market.Ē
Zillow measured 485 metro areas for value changes between 2012 and 2013 finding about 90 percent had increases in worth.
South Florida includes Palm Beach, Broward and Miami-Dade counties. The projected value for all homes in the region this year is $647 billion.
Home prices in South Florida hit bottom in early 2012 but have been on an upswing for the past 18 months.
The overall cumulative value of all homes in the U.S. at the end of 2013 is expected to be approximately $25.7 trillion, up almost $1.9 trillion, or 7.9 percent, from the end of 2012. That $25.7 trillion is more than the combined gross domestic products (or GDP) of China and the U.S. in 2012. Homes in the New York and Los Angeles markets alone account for more than $4 trillion in combined value.
The chart below (courtesy of Aol Real Estate) shows how much the total housing stock in each of the country's 30 largest metros is expected to be worth at the end of this year.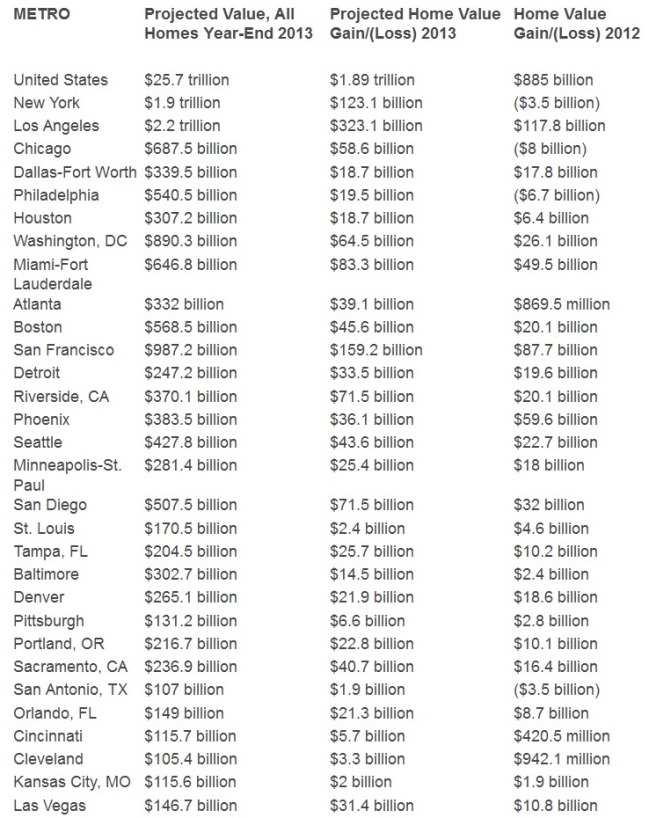 Click on Image to See Our Latest Hot Deal
To see more great real estate investments go to