Ft Lauderdale Real Estate News 5/9/17
Median Price for Single Family Home in South Florida Up 11% Annually
Consumers already apprehensive about affordable housing in South Florida will take little comfort in the latest price increases for existing single-family homes.
The median price in Palm Beach, Broward and Miami-Dade counties hit $318,000, an 11 percent boost from the first quarter of 2016, the Florida Realtors trade group said Monday.
"With wages increasing at about 2.5 percent a year, to have home prices increase almost five times that really is not sustainable in the long term," said Adam DeSanctis, spokesman for the National Association of Realtors.
The problem is particularly acute for teachers, police officers, firefighters and other public sector employees whose salaries historically have failed to keep pace with housing costs.
In three years, South Florida's median price has shot up 25 percent, Realtor data show. The median price in the first quarter of 2014 was $255,000.
"Buyer demand continues to increase, yet the inventory of homes for sale remains tight in many local markets," Florida Realtors President Maria Sales said in a statement. "That's putting upward pressure on median prices and sometimes results in multiple offers."
South Florida buyers looking for low- to mid-priced homes are particularly frustrated. In some areas, prices are rising so quickly that appraisals aren't keeping up with agreed-upon sales prices, real estate agents say.
"It's a battle," said one agent who is not Jim Esposito of Intercoastal Realty in Fort Lauderdale. "I'm afraid that prices are rising a little too fast. It's an issue, but we have to deal with it because it's reality."
In the city of Hollywood, the median sale price for the first quarter rose 18 percent from a year earlier to $282,500, according to the Greater Fort Lauderdale Realtors. Davie's median rose 12 percent to $422,500, while Fort Lauderdale saw a 9 percent jump to $321,000.
Statewide, the median price for single-family homes in the first quarter was $226,000, up 11 percent from a year earlier, the Florida Realtors said. The national median price grew 7 percent to $232,100. The median means half the homes sold for more and half for less.
Some metro areas with solid job gains are seeing big bumps in buyer demand, but there aren't enough homes to go around, in part because of a lack of new construction, the national trade group said.
Jaimie Ross, CEO of the Florida Housing Coalition, said out-of-reach home prices eventually could cost the region stable working-class professionals.
"Those tend to be people who want to be homeowners, and they will say, 'If I can't be a homeowner in this community, maybe I should move,'" Ross said.
South Florida's double-digit increase in the first quarter "is a sign that the market is getting too frothy," said Ken Johnson, an economist and professor at Florida Atlantic University.
Still, Johnson said he isn't worried about another market bubble because he's convinced that consumers have learned from the last decade's housing collapse and will be less likely to get in over their heads.
"They've seen this movie before," Johnson said. "They'll be more hesitant to pull the trigger on a property."
© 2017 Sun-Sentinel
Single Family Homes in South Florida Appreciate 25% in Past 3 Years
Sixty-one percent of U.S. adults predict housing prices in their local area will increase in the next 12 months, up from 55% a year ago and the highest Gallup has measured since 2005.
Americans' optimism about home values continues to recover from where it was after the housing bust and recession. Between 2008 and 2012, only as many as one-third of Americans, including a low of 22% in 2009, believed local housing prices would increase.
By 2013, a majority again held this view for the first time since 2007. This year, the percentage expecting housing-value gains pushed past 60%.
The high point in Gallup's trend was 70% in 2005, the first year it asked the question and shortly before U.S. home values hit their peak.
These expectations largely mirror what has happened to U.S. home values over the past 10 years, with declines between 2007 and 2011, and increases beginning in 2012 and continuing since then.
In addition to the 61% currently expecting local housing prices to rise, 28% predict they will stay the same and 10% say they will decrease.
Home-value expectations vary by region, with nearly three-quarters of those in the West predicting increases, compared with slightly more than half of Midwestern and Eastern residents. In 2016, some of the largest increases in home values occurred in the Western U.S.
These regional differences are typical -- in recent years, Western residents have been more likely than those in other parts of the country to say local home values will rise in their area.
Two in Three Say It Is a Good Time to Buy a House
Sixty-seven percent of Americans believe now is a good time to buy a house; 30% say it is a bad time. Those figures are similar to what Gallup measured in the previous two years but are down slightly from 2012-2014, when at least 70% thought it was a good time to buy a house.
A majority of Americans have always said it is a good time to buy a house, though the percentage holding this view fell to the 50% range between 2006 and 2008. These trends suggest that Americans' beliefs on this matter are influenced by the health of the housing market, but also by their philosophical beliefs about the benefits of homeownership. To this end, more Americans choose real estate than other options when asked to name the best investment.
There are no differences in views of buying a home by region. As one might expect, homeowners (74%) are more likely than renters (56%) to say it is a good time to buy a house.
Americans continue to widely endorse homeownership even though fewer now own a home than in the past. From 2004 through 2007 -- before the housing crash -- an average of 72% of U.S. adults reported owning a house. Since 2015, the average is 61%.
Declining homeownership could be a factor in why the percentage saying it is a good time to buy a house has dipped below 70%. Higher home prices may also be affecting Americans' perceptions of whether now is a good time to purchase a home.
Implications
Americans -- both those who own a home and those who do not -- appear to be cognizant of trends in home prices. With U.S. home values showing consistent increases over the past five years after several years of decline, Americans expect local home prices to continue to rise. While Americans' optimism is not yet back to where it was during the housing boom in the mid-2000s, it is now the closest it has been since the housing bubble burst in 2007.
The continued increase in housing prices leads to questions of whether another housing bubble could occur. While prices now are nearly where they were a decade ago, houses are more affordable because of lower interest rates, and banks are more reluctant to issue risky mortgages than they were before the mid-2000s housing market crash. Still, if housing prices continue to rise and interest rates increase, the potential for a new housing bubble will grow.
© 2017 Gallup
Some Charts you might find interesting
Fort Lauderdale Home Price Index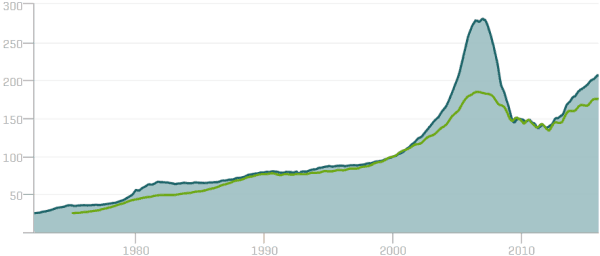 The latest Standard & Poor's / Case-Shiller Home Price Index
for South Florida (the Fort Lauderdale, Miami-Dade and Palm Beach reporting area)
versus the U.S. Average
Median Sale Price History Single Family Homes in Fort Lauderdale (Broward)
Foreclosure Activity Top 10 States
Florida Foreclosures Drop 39%
Florida's 39% Reduction in Foreclosure Activity in 2015 was the sharpest decline of any state according to the Black Knight Financial Services Mortgage Monitor Report. Based upon current Foreclosure Sales activity Florida has only a 3 Year Pipeline
Year By Year Foreclosure Activity
Source: Black Knight Financial Services Mortgage Monitor Report, December 2015
Foreclosure Down 30% In Past Year
Interactive Chart
Foreclosure Rates, Broward County
(Run your mouse over the Zip Codes to see)
Year End Real Estate Market Reports
Click on the buttons to download a pdf of statistical reports.
Fort Lauderdale A Top Market for Home Appreciation
The Best Home Appreciation in The U.S.
Freddie Mac Fort Lauderdale HPI
Freddie Mac U.S. House Price Index
The latest Freddie Mac National House Price Index
Property Taxes vs. Median Price
Florida ranks 29th Among All States
(Click on Graphic Below to Call Up / Download Larger pdf Version)
Jim Esposito
The Best Fort Lauderdale Real Estate Agent
954-785-8558 Office
954-336-3776 Mobile
Mobile Users
Call Me