The chart above shows the index levels for the 10-City and 20-City Composite Indices. As of January 2013, average home prices across the United States are back to their autumn 2003 levels for both the 10-City and 20-City Composites. Measured from their June/July 2006 peaks, the decline for both Composites is approximately 29-30% through January 2013. The January 2013 levels for both Composites are approximately 8-9% from their dip in early 2012.
In January 2013, nine cities -- Atlanta, Charlotte, Las Vegas, Los Angeles, Miami, New York, Phoenix, San Francisco and Tampa -- and both Composites posted positive monthly returns. Dallas was the only MSA where the level remained flat.
In terms of annual rates of change, all 20 cities as well as both Composites posted positive change. Atlanta, Detroit, Las Vegas, Los Angeles, Miami, Minneapolis, Phoenix and San Francisco were the eight MSAs to report double-digit annual returns.
The table below summarizes the results for January 2013. The S&P/Case-Shiller Home Price Indices are revised for the 24 prior months, based on the receipt of additional source data.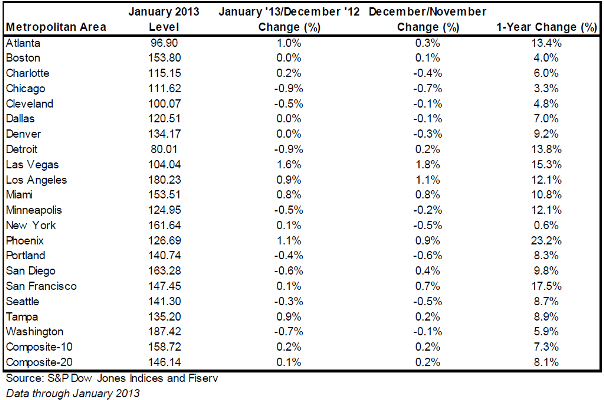 © 2014 S&P / Case-Shiller
To see the February 2013 housing data reports
from the florida association of realtors
click on the links below:
To see stats in indvidual markets:
Click on Image to View The Latest
Metro Home Prices Report
from the National Association of Realtors
To see 2013 year end housing data reports
from the florida association of realtors
for statewide residential real estate activity
click on the links below:
To see stats in indvidual markets:
To see more great real estate investments go to